Exciting things are happe
ning: Together with Yana Weinstein (Assitant Prof at UMass Lowell / @doctorwhy @AceThatTest) I'm leading a workshop at the Teaching, Learning, Takeover Conference (#TLT16) taking place at the University of Southampton on 15 Oct 2016. This conference brings together an exciting crowd of people all interested in improving education using evidence-based strategies.
Hoor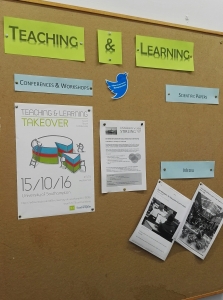 ay! My first academic year at the University of Dundee is over! It has been a rollercoaster and a steep learning curve. I had to create all my lectures from scratch and get used to a new university system. Although it was incredibly stressful at times, I feel that it boosted my professional development as a teacher.
Since teaching is done for this academic year, I have some time to focus on some research projects and scholarship activities. I have two very interesting Teaching & Learning conferences lined up: One in June at the University of Stirling and one in October at the University of Southampton. At the latter one, I am co-running a workshop with Yana Weinstein from University of Massachusetts Lowell. This will be exciting! You can find more info about it here!
In order to promote Teaching & Learning research and activities, I have established a message board in our Psychology Department (see picture). You'll find it on the forth floor of the Scrymgeour Building! If you are around, come and check it out! If you have questions, contact me any time.
Enjoy the summer!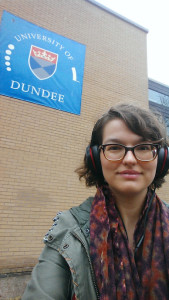 I started my lecturer position at the University of Dundee in Scotland, UK.
I'm looking forward to the new and big challenges this position brings and hope to make valuable contributions to the team.
Check out the Psychology department here!
Last week, I gave a presentation on brand-new and promising spacing effect data at the Brain-Behavior-Cognition meeting at WashU. Yes, despite this old learning phenomenon Mark McDaniel and I approached this research topic from a different angle which allowed us to reveal interesting and practically relevant findings. Overall, the feedback was very positive and encouraging! Papers in preparation.
Also, I'll be presenting new data on the sleep-memory effect at Dave Balota's and Jan Duchek's lab meeting on April 6. I'll give an overview on two projects that I have been collaborating on with Edgar Erdfelder (University of Mannheim) and Meike Kroneisen (University of Mannheim), respectively. Looking forward to the feedback!

Via:
Guide
I'm looking forward to presenting new research at the Annual Meeting of the Psychonomic Society in Long Beach in November.
Come to discuss our research with us:
Friday, Nov 21, 12 – 1:30pm
Küpper-Tetzel, C. E., & McDaniel, M. A. (2014). Relational and item-specific processing in the spacing effect.
Saturday, Nov 22, 12 – 1:30pm
Kroneisen, M., & Küpper-Tetzel, C. E. (2014). Delayed testing eliminates the beneficial effect of sleep on memory.
Unsere Papiere, Erdfelder, E., & Küpper-Tetzel, C. E. (2014). Wie beeinflusst Schlaf das Gedächtnis? Eine multinomiale Verarbeitungsbaumanalyse, wurde für die diesjährige DGPs Tagung angenommen.
Der Kongress der Deutschen Gesellschaft für Psychologie findet vom 21.-25. September in Bochum statt.
Infos gibt es auf der Webseite der DGPs.