I was awarded the "Ontario/Baden-Württemberg Faculty Mobility Program" fellowship by the Ministry for Science, Research, and Arts of Baden-Württemberg. This funding is designated for a 6-month research stay at York University in Toronto, Canada. During my 6-month research stay, I will conduct research and work collaboratively with Nicholas Cepeda and his team. I very much look forward to this collaboration!
Today, the new semester starts at the University of Mannheim. The next 4 months will be quite exciting. I'm looking forward to teaching a new seminar. It'll be challenging but fun. Also, I will start working on a second manuscript that I would like to publish. Besides research and teaching, I'm training for the half marathon that I would like to run on May 21 in Mannheim.
I wish everyone a successful semester!
I attended a 3-day workshop on R taught by Marc Jekel (University of Bonn). He did a great job in explaining this quite complicated but incredibly powerful programming language. Not only did I understand many things, but I'm also motivated in learning more about it. I borrowed some books from the library and I'm actually considering using R in the future. Thanks, Marc!
Today I received my Doctoral Degree Certificate from the Dean of the School of Social Sciences.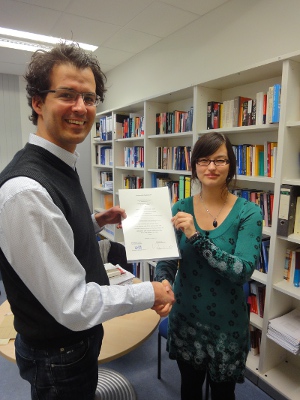 The semester is coming to an end: One more week! It has been a great semester. I had fun with the seminar I gave on "Successful learning". In the last seminar session, students are going to work in small groups and conceptualize a learning plan for the coming term based on the things they have learned in the seminar. I'm very much looking forward to their ideas. Also, it'll be interesting to see what they have learned and if they are able to apply this knowledge.
I'll be attending this 2-day workshop at the Radboud University Nijmegen in the Netherlands.
Dates: October 27th – October 28th, 2010
For more information take a look at the workshop website!