Hoor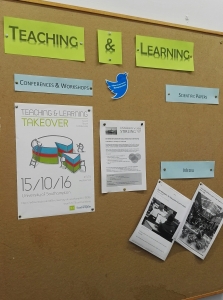 ay! My first academic year at the University of Dundee is over! It has been a rollercoaster and a steep learning curve. I had to create all my lectures from scratch and get used to a new university system. Although it was incredibly stressful at times, I feel that it boosted my professional development as a teacher.
Since teaching is done for this academic year, I have some time to focus on some research projects and scholarship activities. I have two very interesting Teaching & Learning conferences lined up: One in June at the University of Stirling and one in October at the University of Southampton. At the latter one, I am co-running a workshop with Yana Weinstein from University of Massachusetts Lowell. This will be exciting! You can find more info about it here!
In order to promote Teaching & Learning research and activities, I have established a message board in our Psychology Department (see picture). You'll find it on the forth floor of the Scrymgeour Building! If you are around, come and check it out! If you have questions, contact me any time.
Enjoy the summer!